Los Angeles is known for its pleasant weather, access to both the beaches, mountains and desert, and it has some of the best entertainment, dining and shopping destinations in the country. Needless to say a lot of people move to the City of Angels, but the popularity of renting luxury Mid City Los Angeles apartments has increased significantly over the last few years.
If you are contemplating the Mid City neighborhood in Los Angeles, then you will want to continue reading this article to learn why it is one of the most desired locations for LA renters looking for something truly special.
Mid City Los Angeles Apartments are Ideal for Young Professionals
If you are a young professional on your way up the corporate ladder, then exploring available Mid City Los Angeles apartments would be ideal, as landing such a property would accommodate your lifestyle and provide an easier opportunity to meet like-minded people. The Mid City area is known to be liberal with residents who like to stay active outdoors. It is also a trendy area for meeting new people at the many coffee shops, bars and cafes throughout the neighborhood.
Mid City Los Angeles Offers Affordable Luxury
Another reason why renting Mid City Los Angeles apartments is so popular is because you don't pay the premium to live in Beverly Hills, but you are right next door. Tenants often report that renting in Mid City Los Angeles is ideal because they have all the amenities provided by Beverly Hills while not having to pay a higher rent, which enables one to better build their savings towards buying a home someday.
Mid City Los Angeles Offers a Wide Range of Local Entertainment Options
Whether you are going out for the night with friends, playing host to out-of-town family members, or you are taking your child and his friends out, Mid City Los Angeles offers a wide range of local entertainment options to suite any personality type or age. For example, the Mid City region has the largest cluster of escape rooms in the city. These escape rooms come in a wide range of themes and difficulty levels making them ideal options for the entire family, for a bachelorette party, or for a child's birthday celebration. There is also an indoor play center, an indoor golf range, and the Melrose Rooftop Theatre for taking in a movie. Renting in Mid City also offers easy access to a number of art galleries and a virtual reality center, as well as a selection of performing arts centers.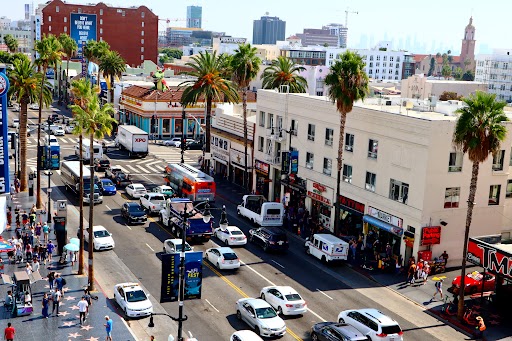 Renting Apartments in Mid City Los Angeles Offers a Dog-Friendly Community
If you are looking for a dog-friendly community then Mid City Los Angeles is an ideal place to rent. Not only is the luxurious Carthay Pacific apartment complex a great place for your pooch to call home, but the neighborhood is known for being very dog-friendly to the point that many local coffee shops and other businesses leave out bowls of water and provide dog treats. Locals are respectful towards people walking their dogs, and the region is known for being one of the best areas for dog owners to reside.
Mid City Los Angeles Apartment Renters Love the Access to Top Restaurants
Many of us are too busy to cook on a daily basis, so dining out becomes a necessity. Another reasons why renting Mid City Los Angeles apartments is so popular is that locals get easy access to some of the city's best dining spots. For example, Met Her At A Bar is one of the trendiest spots in LA for breakfast and brunch and is nearby, as well as Vespertine for fine dining. Mid City also hosts a wide range of eating spots that reflect multiple cultures and cuisine types: Little Ethiopia is a stone's throw away and boasts some of the best Ethiopian food in the city, and there is fast access to Italian, Indian, Creole, Mexican, Peruvian, French and other cuisine types. Renting one of our Mid City Los Angeles apartments means that whether you order in, or eat out, you and your friends will never get bored with the local dining options.
Renting Mid City Los Angeles Apartments Comes with Lots of Green Spaces
People who live in the city never take green spaces for granted, and when you are renting a Mid City Los Angeles apartment, you get easy access to a number of relaxing parks. Some people love to use nearby parks for their workout space, for meditating, for picnics, or just to relax with a good book. Local renters in Mid City can enjoy Queen Anne Park, Reynier Park, Harold A Henry Park, and a number of other open green spaces to unwind and relax while connecting with Mother Nature.
Call Carthay Pacific to Tour One of Our Mid City Los Angeles Apartments Before They are Gone!
Our luxurious Mid City Los Angeles apartments have all the top amenities, high-end design features and fixtures, and come with stunning views making them highly desirable in the area. Call today to tour one of our floor plans, and get a glimpse of how your lifestyle can transform when you become a local Mid City resident at Carthay Pacific.