The emerging design trends in the winter of 2022 are predicted to ride the whole of 2023, and beyond. Everyone wants to have a stylish apartment that reflects their personality and aesthetic tastes, but when living in your Mid City apartment in Los Angeles, apartment design is everything. If you live in one of the best Los Angeles apartments, and you are searching for some ideas on how to decorate portions of your living space, these tips will help.
1. Choose A Single Color and the Same Shade for Multiple Items in a Single Area Accented with White
A few years ago ombre painting was all the rage. This is when a wall or piece of furniture uses a striped pattern or gradual blending and shading from one color to another, or from one shade to another of the same color.
Ombre still has some popularity, but according to HGTV, people are going a lot more minimal and are utilizing a single color, in the same shade, and adding pops of white to sharpen the look. For example, painting one wall in a shade of Delft blue, wallpapering another wall in that same shade, and upholstering a sofa in that shade will emphasize texture variations within the arena of unity, and a white coffee table, throw pillows and rug will add that crisp freshness that truly names the room look chic. Consider a popular color reflected in your Los Angeles area neighborhood, or choose your favorite color to create that energy in your living space.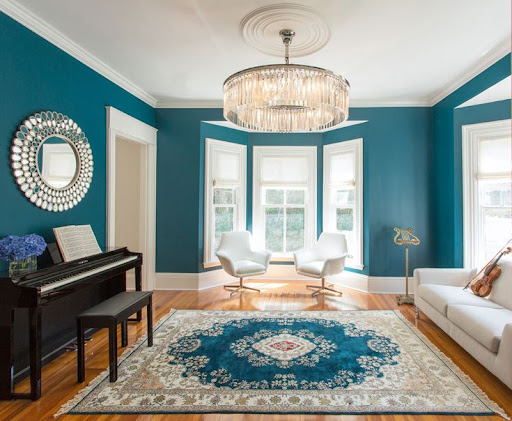 2. Bridge Multiple Styles to Create More Drama in the Room
According to a Pew poll survey, the most popular interior design styles in the mid city apartments in the Los Angeles Area include modernism, industrial and Art Deco. If each of these styles appeals to you, consider pieces for the room that tie in together. For example, furniture made from airplane skin or plane wings and other parts of a plane does just that. If you get retro airplane skin lining a desk or a coffee table, the metal look is a throwback to the materials often associated with Art Deco design, there is definitely that connection with industrial decor, and when done right, such pieces also throw off a strong modern vibe.
3. Display Art or Pieces that Reflect a Goal You Have Going Into 2023
Most people make New Year's resolutions, even if they don't say them out loud or share them with others. If you believe that actions hold powerful energy, consider decorating your Los Angelesapartment with materials that reflect your goal. For example, if your goal is to propose marriage to your girlfriend, take something that is associated with a loving memory you two have, and make it a central piece on your coffee table. For example, if you took a vacation to Italy together and purchased a piece of Morano glass and it reminds you of all your travel adventures together, display it. If your goal is to travel to a specific location, buy a piece of art that reflects that region and hang it in your apartment so that you are reminded of your goal every day. It may just inspire you to take time away from work so that you can go enjoy a fun excursion. If your goal is to adopt a cat at one of the local shelters, find something with a cat on it, and place it on one of your shelves. It could be an antique brass sculpture or a throw pillow with a car design.
4. Incorporate Living Organic Matter in Your Apartment
Studies show that when we incorporate living elements of nature (house plants are the most common type), that one's blood pressure drops, and they feel a greater sense of peace. It is also said to help with focus and concentration. But rather than take the obvious direction with houseplants, or at least rather than relying on houseplants alone, think outside the box. Find a wall that gets good morning light and consider a hanging garden with its own water delivery system. These can be tiny plants, or herbs that you can grow and use in cooking. Not only will a wall garden bring vibrancy and peace into the space, but it will serve as a decorative fixture.
You can also add a fish aquarium to introduce color, organic matter and positive energy into your apartment. Check with your apartment's management company to see what the weight limits are on aquariums. You should be able to add a large, heavy aquarium, but you should always check first. Most renters invest in aquariums ranging in size from a 30 gallon to a 75 gallon–these are sizable enough, but not mammoth in size. Saltwater fish are brighter, and you tend to get greater selections than you do with fresh water fish. You can even choose the color of your fish to complement colors in the home. Learning to care for an aquarium is easy, or you can pay for a service to make routine maintenance calls.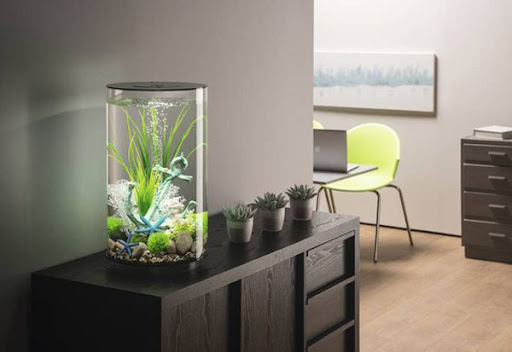 Looking for a Mid City Apartment in Los Angeles? Call Carthay Pacific Today
Carthay Pacific is known for offering the best luxurious Mid City apartments in Los Angeles. Call today to book an appointment so you can walk our floor plans and discover how your quality of living can improve by becoming one of our special residents in a historic area full of luxury and charm.