Moving to a new apartment in Mid City Los Angeles brings a great degree of excitement, and while there is almost always some degree of chaos in any move, this coupled with the excitement one experiences when moving to one of the most desirable neighborhoods in LA can cause one to forget to shop for things they need in their new home.
This article is intended for tenants moving into our Carthay Pacific Mid City Los Angeles apartment for young professionals who want to check their moving task list twice to ensure they have all the essentials before spending that first night in their new home.
1) Get an Earthquake Kit for Your Mid City Los Angeles Apartment
Even if your Mid City Los Angeles apartment building has been constructed to withstand high magnitude earthquakes, it is ideal to have an emergency kit on hand. Afterall, earthquakes can cause water lines to get shut off for long periods of times, and conditions can make it difficult to get to grocery stores or other shops. Considering the fact that the San Andreas fault cuts right through Los Angeles County and has caused earthquakes as powerful as a magnitude 8, it is smart to have provisions and an emergency kit in your Mid City Los Angeles apartment. It should contain the following:
First aid kit
Candles
Kerosine lamp
Extra water (figure one gallon, per person, per day and have a supply for several days)
Non perishable food
Battery powered radio
Flashlight
Took kit
Whistle (for signaling)
Animal carrier (for your pet)
Extra batteries
Face mask
Sleeping bag
Small tent
Moist towelettes (for cleaning one's self)
Local maps
Supply of medications
Emergency Go Bag
You will also want to have a pair of durable shoes next to your Go Bag in the event you have to flee the building with your pet. There will likely be broken glass and debris, so steel toe combat-style boots are ideal. Consider keeping your emergency go bag and pet carrier by your bed or somewhere that will be convenient that you can quickly get to.
2) Every Mid City Los Angeles Apartment Renter Needs Tools
Whether you want to hang your artwork on the wall, assemble new furniture, or screw some hardware into your new cabinet, having a tool kit is important. While in some cases you will need to call maintenance (such as for plumbing issues) other things are in your control, but you need to have the right tools on hand to avoid a big inconvenience. Be sure to get a screwdriver set, hammer, wrench set, electric screwdriver, a level, measuring tape, box cutter, and a small electric drill. These are the essential tools that every renter should have on hand.
3) Make A Kitchen Supplies Checklist for Your Mid City Los Angeles Apartment
According to Zillow, one of the biggest inconveniences that tenants run into when first moving into their Mid City Los Angeles apartment is not having all the essential kitchen supplies. Here is an example of a standard list: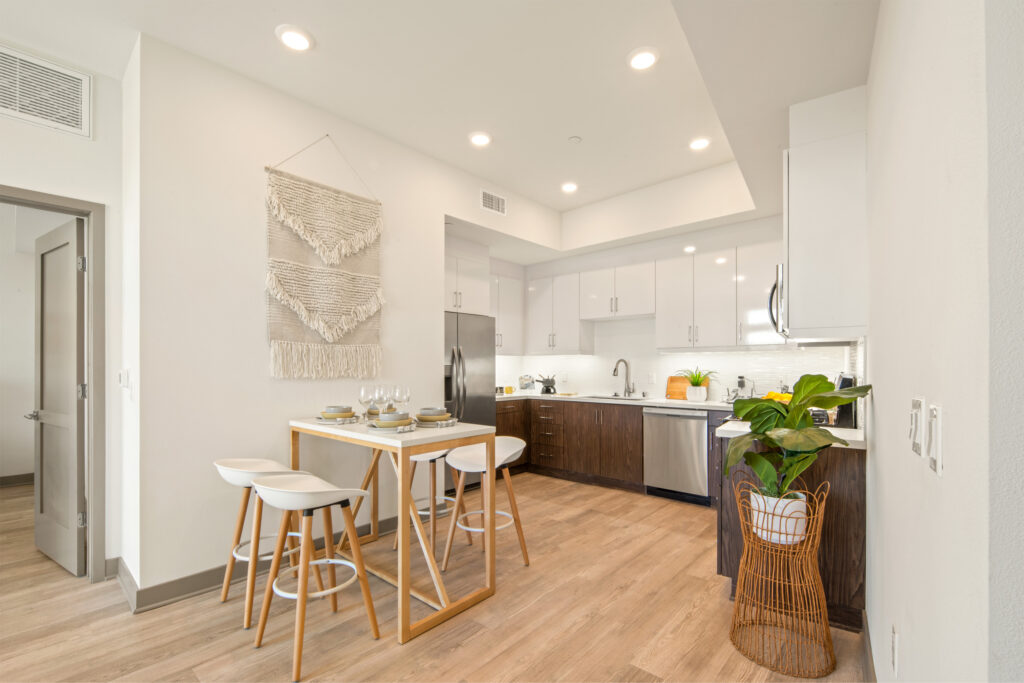 Plates, drinkware, silverware and bowls
Can opener
Knives
Peelers
Espresso machine
Coffee maker
Tea kettle
Cutting board
Spatula, whisks and wooden spoons
Food storage containers
Toaster
Frying pans, sauce pans, and pots
Rice cooker
Measuring cups and spoons
Blender
Juicer
Towels and oven mitts
Scissors
Garbage bags
Paper towels
Dish soap
Spices
This is just a standard list, but a good one to start from when you are preparing to move into your new Mid City Los Angeles apartment.
4) Home Office Essentials for Your Mid City Los Angeles Apartment
A large number of people aged 21 to 48 work from home in the Mid City Los Angeles area. That said, when you move into your new apartment, you will need to determine where your designated workspace will be, or your home office, and create a list of all the things you will need to comfortably conduct your work from home. Most people will buy a new printer, get a supply of ink and paper, buy a filing cabinet, desk lamp, USB drives, headset with a microphone, speakers, and an ergonomic chair and keyboard. Even adding some house plants in your work area will help to add a level of calm, and inspire greater focus.
5) Lighting Will Be Key for Your Mid City Los Angeles Apartment
Before you move in, take notice of where existing light fixtures are, and areas where you will need to add your own lighting. You will likely need to pick up a few floor and table lamps for your apartment. Make sure the lighting will fulfill your needs. In other words, if you want the area where you intend to hang out with a book and a glass of wine, you will want a soft, bright light ideal for reading. Lighting in other areas can enhance mood and can therefore be more dim. Just think about how you plan to live in your new Mid City Los Angeles apartment and plan the lighting accordingly.
Call Carthay Pacific if You are Looking for a Luxury Mid City Los Angeles Apartment
Carthay Pacific offers some of the most desirable, luxury Mid City Los Angeles apartments that have high-end finishes, and all the amenities you need to live comfortably, and we are a pet-friendly property in a very walkable part of the city just steps from Beverly Hills and Little Ethiopia. Call today to tour our recent availability, and discover how you can enhance your lifestyle by being the latest Carthay Pacific resident.